The Rotary Road to Gampong Anak

The tsunami of December 26th 2004 was the most catastrophic natural disaster of our lifetime. The epicentre of the earthquake was 100 Km offshore from Aceh which suffered the worst damage and greatest loss of life.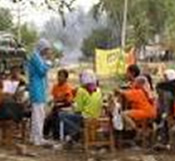 The Rotary Club of Turramurra, like many other Rotary Clubs and individuals world wide, desperately wanted to help the survivors. Then President Henk Landstra asked PP Ian Howden to form a committee and establish what Turramurra club could do. There were no guidelines or limitations for the committee, just use the Rotary network and do what you can.